Snippets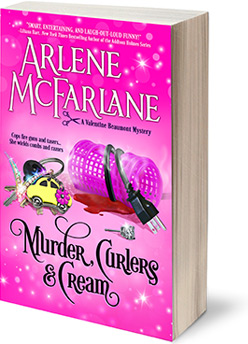 MURDER, CURLERS, AND CREAM
Valentine Beaumont is a beautician with a problem. Not only has she got a meddling mother, a wacky staff, and a dying business, but now she's got a dead client who was strangled while awaiting her facial.
With business the way it is, combing through this mystery may be the only way to save her salon. Until a second murder, an explosion, a kidnapping, death threats, and the hard-nosed Detective Romero complicate things. But Valentine will do anything to untangle the crime. That's if she can keep her tools of the trade in her bag, keep herself alive, and avoid falling for the tough detective.
In the end, how hard can that be?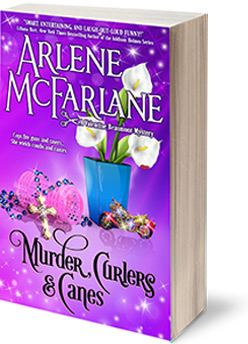 MURDER, CURLERS, AND CANES
Valentine Beaumont is back in her second hair-raising mystery, this time, trying to find out who had it in for an elderly nun. Only trouble is there are others standing in her way: hot but tough Detective Romero, sexy new stylist Jock de Marco, and some zany locals who all have a theory on the nun's death.
Making things worse: the dead nun's secret that haunts Valentine, another murder, car chases, death threats, mysterious clues, an interfering mother, and a crazy staff.
Between brushing off Jock's advances and splitting hairs with handsome Detective Romero, Valentine struggles to comb through the crime, utilizing her tools of the trade in some outrageous situations. Question is, will she succeed?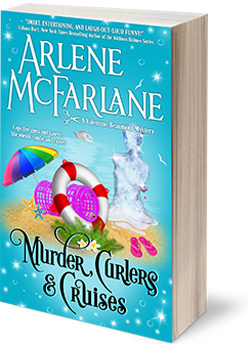 MURDER, CURLERS, AND CRUISES
In her third fast-paced mystery, beautician Valentine Beaumont and her madcap crew sail the high seas on a Caribbean "Beauty Cruise." When a bizarre murder takes place onboard, Valentine finds herself swept into the middle of the investigation.
If things aren't bad enough, her mother is playing matchmaker, a loved one is kidnapped, drug smuggling is afoot, a hair contest proves disastrous, and a strange alliance between tough Detective Romero and sexy stylist Jock de Marco rubs Valentine the wrong way.
Will this impulsive beauty sleuth comb through the catastrophes and untangle the mystery, or will this voyage turn into another fatal Titanic? With Jock and Romero onboard, it's destined to be a hot cruise!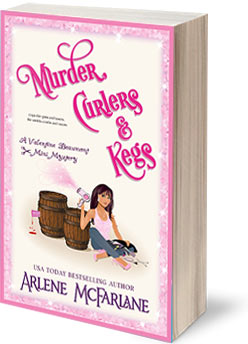 MURDER, CURLERS, AND KEGS
In her first action-packed mini mystery, beautician Valentine Beaumont is stalked by an escaped felon she once helped put behind bars. As she strives to stay one step ahead and stop this maniac before he kills her, she stumbles onto a dead body, unearths secret plots, struggles with family obligations, and is tackled in more ways than one.
With a string of beauty disasters, two sexy heroes, a ticking clock, and a little help from her friends, can Valentine solve this case before the killer gets his revenge, or will this be her last?
Murder, Curlers & Kegs is book 4 in the Murder, Curlers series and the first in Valentine's shorter-length mini mysteries.