Snippets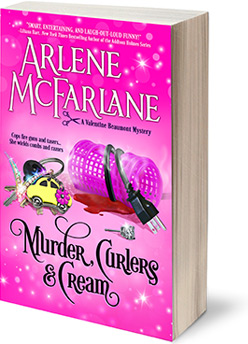 Murder, Curlers & Cream
Valentine Beaumont is a beautician with a problem. Not only has she got a meddling mother, a wacky staff, and a dying business, but now she's got a dead client who was strangled while awaiting her facial.
With business the way it is, combing through this mystery may be the only way to save her salon. Until a second murder, an explosion, a kidnapping, death threats, and the hard-nosed Detective Romero complicate things. But Valentine will do anything to untangle the crime. That's if she can keep her tools of the trade in her bag, keep herself alive, and avoid falling for the tough detective.
In the end, how hard can that be?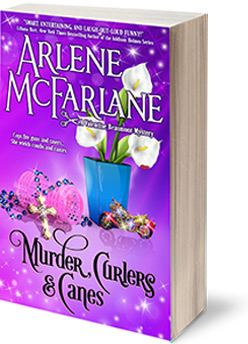 Murder, Curlers & Canes
Valentine Beaumont is back in her second hair-raising mystery, this time, trying to find out who had it in for an elderly nun. Only trouble is there are others standing in her way: hot but tough Detective Romero, sexy new stylist Jock de Marco, and some zany locals who all have a theory on the nun's death.
Making things worse: the dead nun's secret that haunts Valentine, another murder, car chases, death threats, mysterious clues, an interfering mother, and a crazy staff.
Between brushing off Jock's advances and splitting hairs with handsome Detective Romero, Valentine struggles to comb through the crime, utilizing her tools of the trade in some outrageous situations. Question is, will she succeed?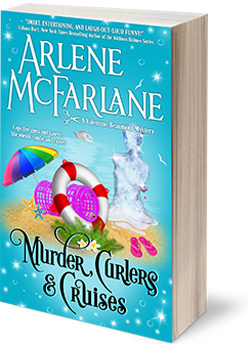 Murder, Curlers & Cruises
In her third fast-paced mystery, beautician Valentine Beaumont and her madcap crew sail the high seas on a Caribbean "Beauty Cruise." When a bizarre murder takes place onboard, Valentine finds herself swept into the middle of the investigation.
If things aren't bad enough, her mother is playing matchmaker, a loved one is kidnapped, drug smuggling is afoot, a hair contest proves disastrous, and a strange alliance between tough Detective Romero and sexy stylist Jock de Marco rubs Valentine the wrong way.
Will this impulsive beauty sleuth comb through the catastrophes and untangle the mystery, or will this voyage turn into another fatal Titanic? With Jock and Romero onboard, it's destined to be a hot cruise!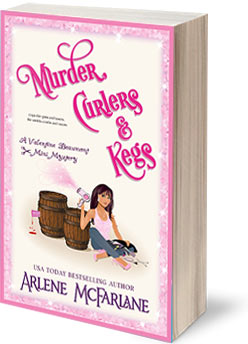 Murder, Curlers & Kegs
In her first action-packed mini mystery, beautician Valentine Beaumont is stalked by an escaped felon she once helped put behind bars. As she strives to stay one step ahead and stop this maniac before he kills her, she stumbles onto a dead body, unearths secret plots, struggles with family obligations, and is tackled in more ways than one.
With a string of beauty disasters, two sexy heroes, a ticking clock, and a little help from her friends, can Valentine solve this case before the killer gets his revenge, or will this be her last?
Murder, Curlers & Kegs is book 4 in the Murder, Curlers series and the first in Valentine's weekend mysteries.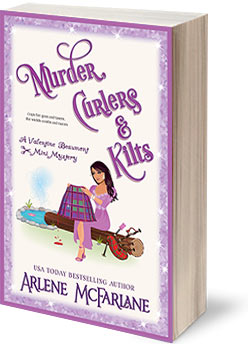 Murder, Curlers & Kilts
A weekend visit to Rueland's multicultural fair turns sour when beautician Valentine Beaumont comes face to face with a corpse wearing a kilt. What's worse, she learns the victim was a target of foul play, her #1 nemesis is on the case, and her clever sidekick falls prey to love.
Despite warnings from hot, hard-headed Detective Romero to leave things to the police, Valentine sets off to snag the killer. While on the case, she crashes into sexy, Herculean stylist Jock de Marco, rattles an old foe, wrestles with family issues, and tangles with secretive clan members.
Will Valentine catch the murderer before she becomes the weekend's next target? Or are her fair days numbered?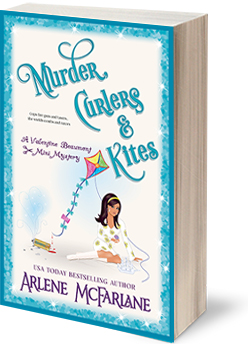 Murder, Curlers & Kites
When beautician Valentine Beaumont's star employee, Jock de Marco, goes missing, Valentine fears the worst. Jock could turn a Plain Jane into a knockout with the mere touch of his comb. But despite his talents in the salon, this tame career might not be enough to distance himself from a dangerous past that may be coming back to haunt him.
Valentine will stop at nothing until she finds out what happened to this Argentinean Hercules, but other things are getting in her way: an elusive assailant, a cryptic email, an infuriating employee, and one hot detective who is pressuring her to give up her search for the sexy stylist.
Can this impulsive heroine uncurl the mystery and save Jock? Or will she be too late and live a lifetime filled with regret?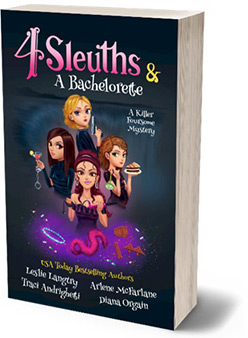 4 Sleuths & a Bach
e

lorette

Four USA Today bestselling authors team up to bring you your favorite female sleuths in a hilarious new mystery series!

Tonight is Babette Lang's bachelorette party. Problem is, there's no bachelorette, only an unusual group of disgruntled guests—a wannabe hand-model bartender, a chain-smoking talent agent, the bride-to-be's cheapskate boss, plus the sloshed fiancé and his furious sisters.

It's not a party until there's a body!

When one of the guests drops dead, four women with a tendency for trouble join forces to catch a killer.

Valentine Beaumont ~ Boston sleuth and gutsy beautician
Kate Connolly ~ San Francisco part-time crime-solver and sleep-deprived new mom
Merry Wrath ~ Iowa ex-CIA operative turned Girl Scout leader
Franki Amato ~ New Orleans PI and victim of a serial-matchmaking Sicilian nonna

Will these sleuths untangle this double mystery and save the party? Or is it already too late?
Homescho
o

ling: a moth

e

r-Daughter account on why It was a success

Are you new to or undecided about homeschooling? Do you wonder what your children will think about their experience when they become adults?

You're not alone. Many of us who educate our children at home started with the same questions. Join this mother-daughter duo and be inspired by their heartfelt account on why homeschooling was a success for them.

From a daughter's perspective, Eden shares her favorite moments in home education, how she later faced the transition into high school, and how her homeschooling experience was transformative in her adult years.

From a mother's perspective, Arlene shares how infusing lessons with structure and creativity established a balanced education and desire in her children to learn. Her uplifting narrative reveals tips and examples that homeschooling parents will find enlightening and may adopt as part of their own routine.

Discover this book's unique approach that depicts two viewpoints, and be encouraged as it demonstrates homeschooling as a rewarding experience for both parent and child.